No matter how you use the bed of your pickup truck, there's a tonneau cover that's right for you! From style to security and everything in between, Renegade Customs carries and installs truck bed covers designed to fit your lifestyle.
Modern tonneau covers are engineered for ease of use and can work with toolboxes, racks and 5th wheel applications. We offer a variety of hard, soft, rolling, tri-fold and retractable cover designs, so you can decide if you want to fold it, roll it, slide it, lift it or lock it!
Need a ladder rack or rear cargo rack? We've got you covered! Give us a call or swing by the shop to check out our large selection of truck racks and truck bed covers. We'll help match you up with the tonneau cover and gear that's just right for you and your budget.
Also offering Headache Racks! Protect your cab and pickup window with a funtional and stylish truck rack. 
Scroll down to check out our FREQUENTLY ASKED QUESTIONS and get more information about truck bed covers.
FINANCING AVAILABLE THROUGH ACIMA
No Credit Needed. Low Initial Payment. Flexible Finance Options. Some Restrictions Apply.
Whatever You Need...We've Got You
Ready to find out more?
Give us a call, send us a note, stop by the shop or scroll down to check out our FAQ's and some of the brands we carry!
Renegade Customs offers plenty of options when it comes to choosing the right pickup bed cover for your truck.  Whether you're looking for style, security, or a combination of both, we can help you find the right tonneau cover to suit your individual needs.
Pickup truck covers are available for nearly all make and model of trucks. No matter the type of truck you drive, we've got you covered! In almost all cases, we can find a bed cover to fit the specifications of your truck bed … and our installers are second to none!
Below is more information about the types of tonneau covers that we regularly sell and install.  
ROLLING TONNEAU COVERS
Roll-up truck bed covers offer a diversity of benefits including versatility, durability, and protection. When opened, roll-up truck bed covers provide more access to your bed than any other bed cover because they sit compactly against the cab.  A rolling truck bed cover will not block your truck's rear cab window, allowing for unobstructed vision. Additionally, they provide mechanisms that allow the bed covers to lock into place for driving with the cover rolled up and open.
Roll-up bed covers are generally made of heavy-duty vinyl or aluminum slats (for premium covers). When closed, both will cover the full length of the truck bed on both sides and offer a low-profile design. Premium hard roll-up covers are stronger, providing more strength and security, but they come at a higher price-point than vinyl roll-up tonneau covers.
Vinyl rolling bed covers will operate with snaps or Velcro and take more time to open and close than their premium counterparts.  The premium hard roll-up covers work on a track system and are very easy to operate.
Premium roll-up bed covers have been developed with newer truck models in mind, so there is not much availability for older trucks.  Soft tonneau covers will be the preferred option for older model pickup trucks.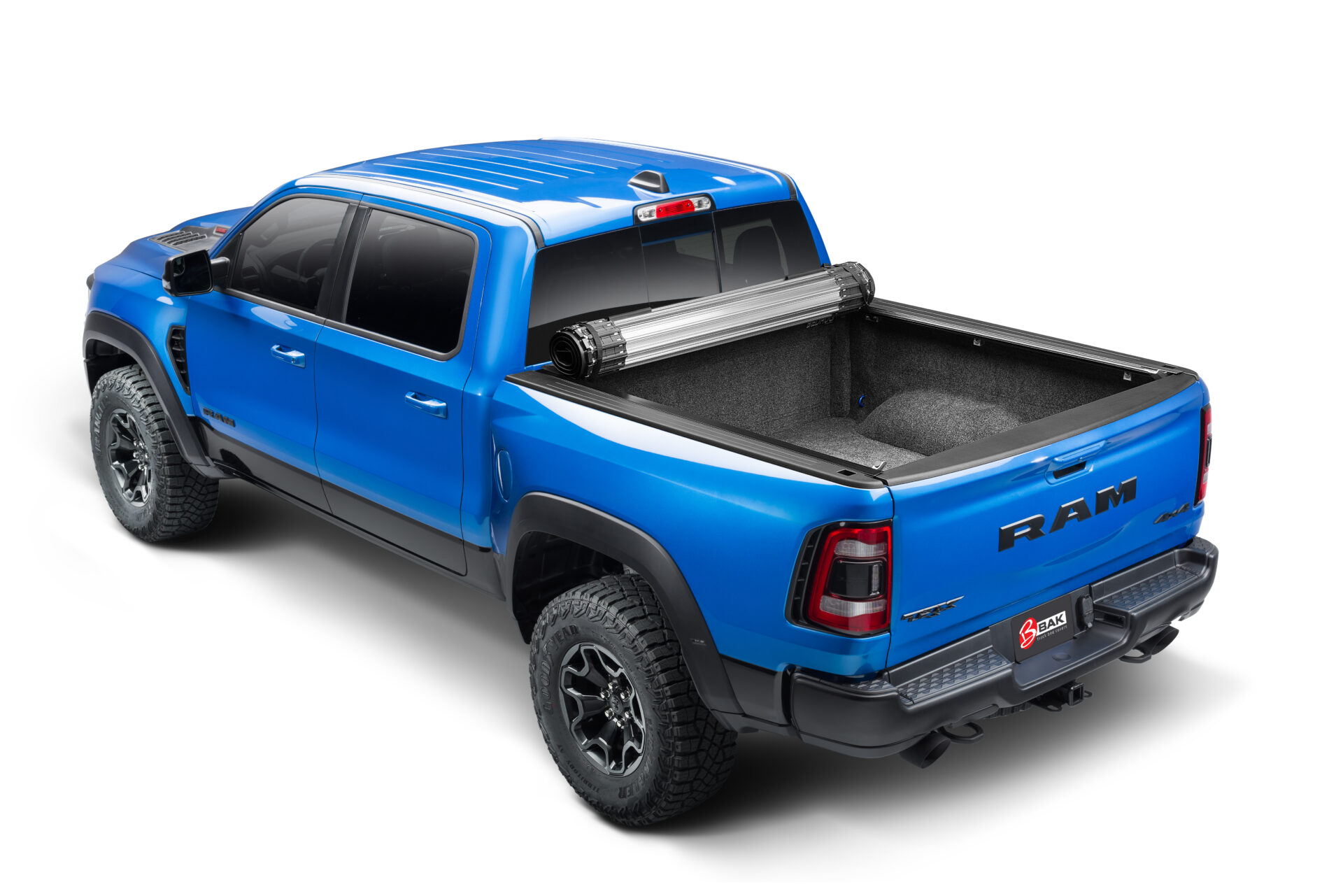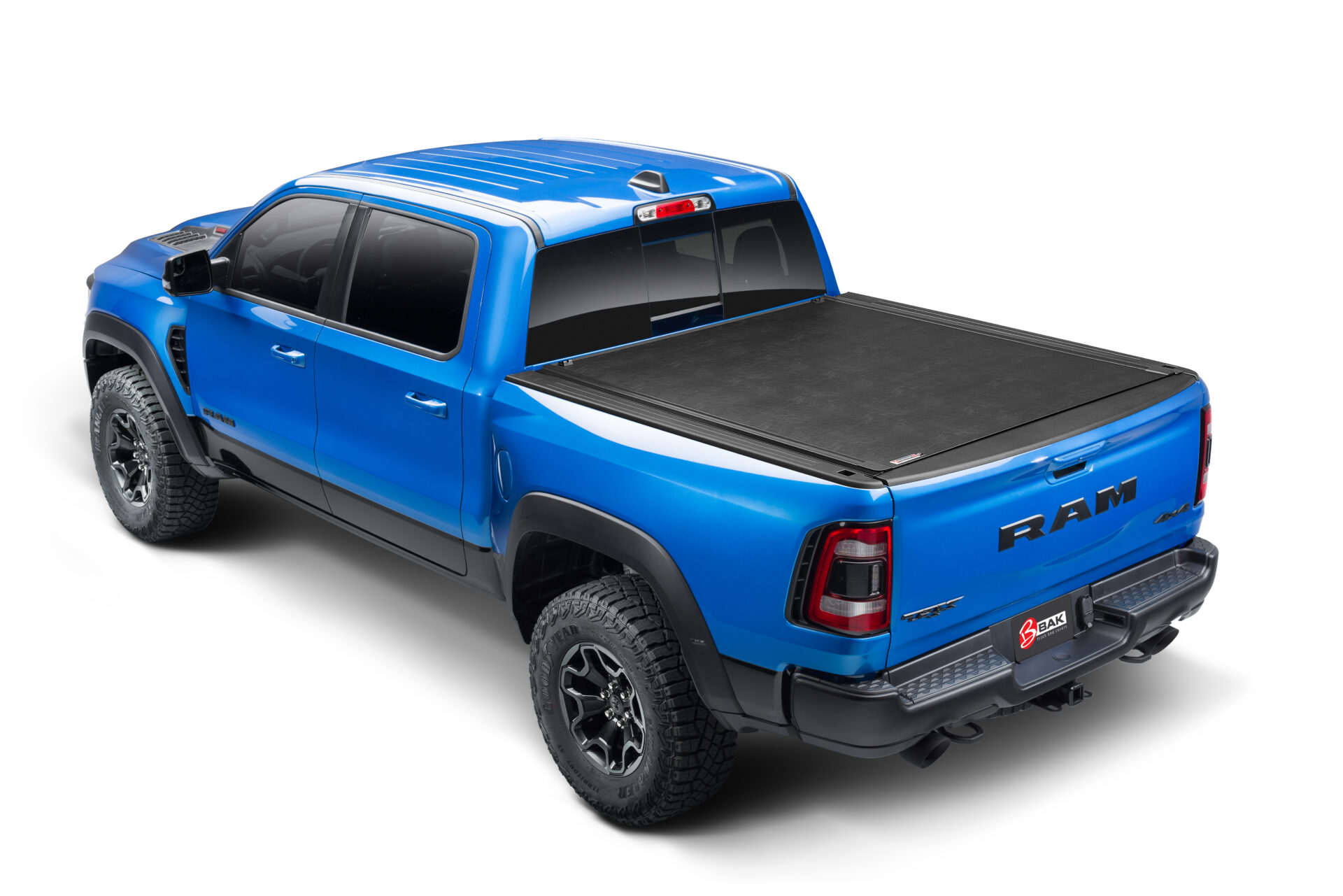 ONE PIECE SOLID BED COVERS
One-piece, hinging truck bed covers are light-weight and easy to remove when you need true full-bed access.  Most one-piece truck lids come equipped with a secure locking system and an LED lighting system with a self-contained battery source.  Factory paint options are often available to match the color of your truck.
Hard bed covers for trucks that utilize the hinge design are eye-catching and can blend flawlessly into the body of the pickup truck, giving it a refined look.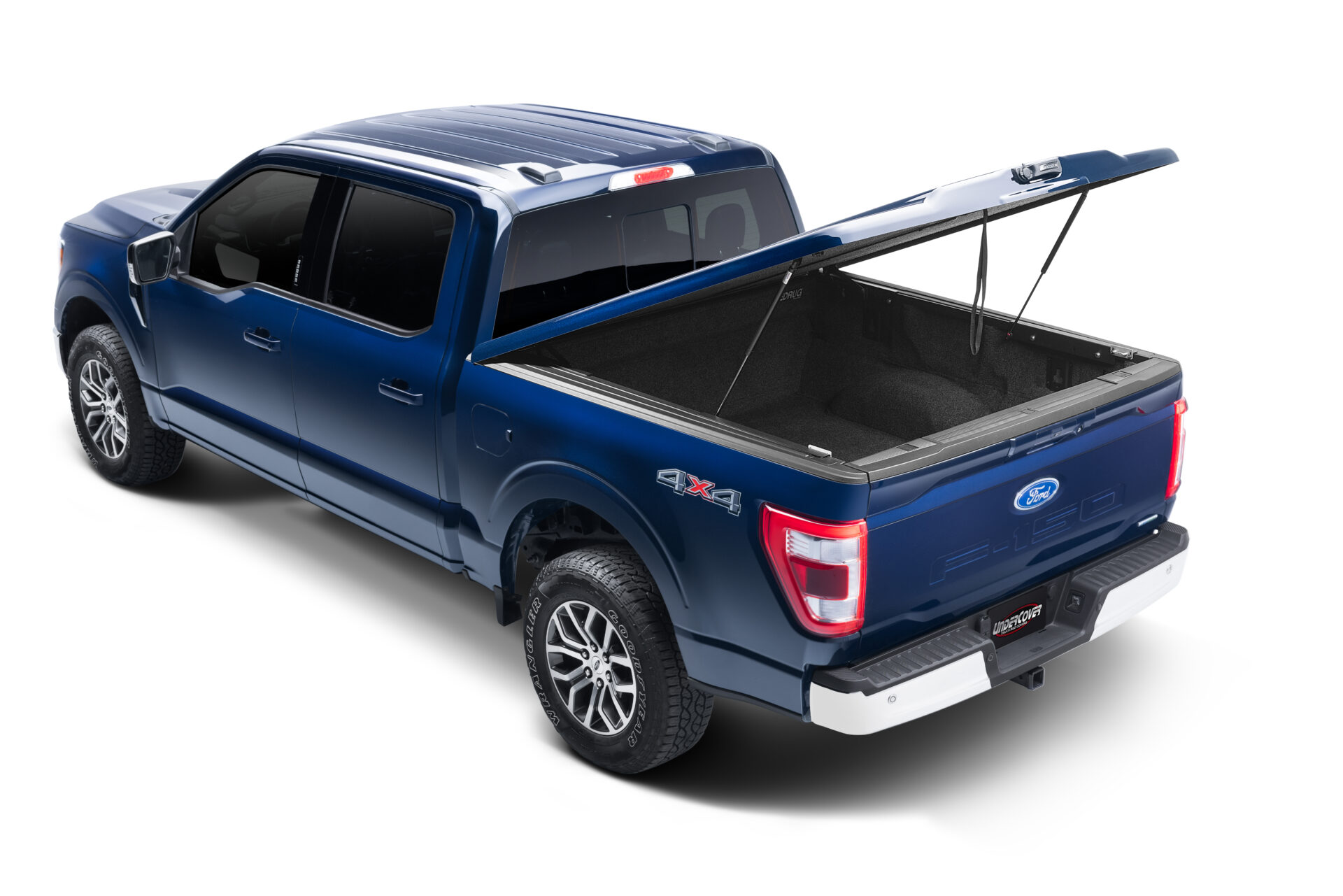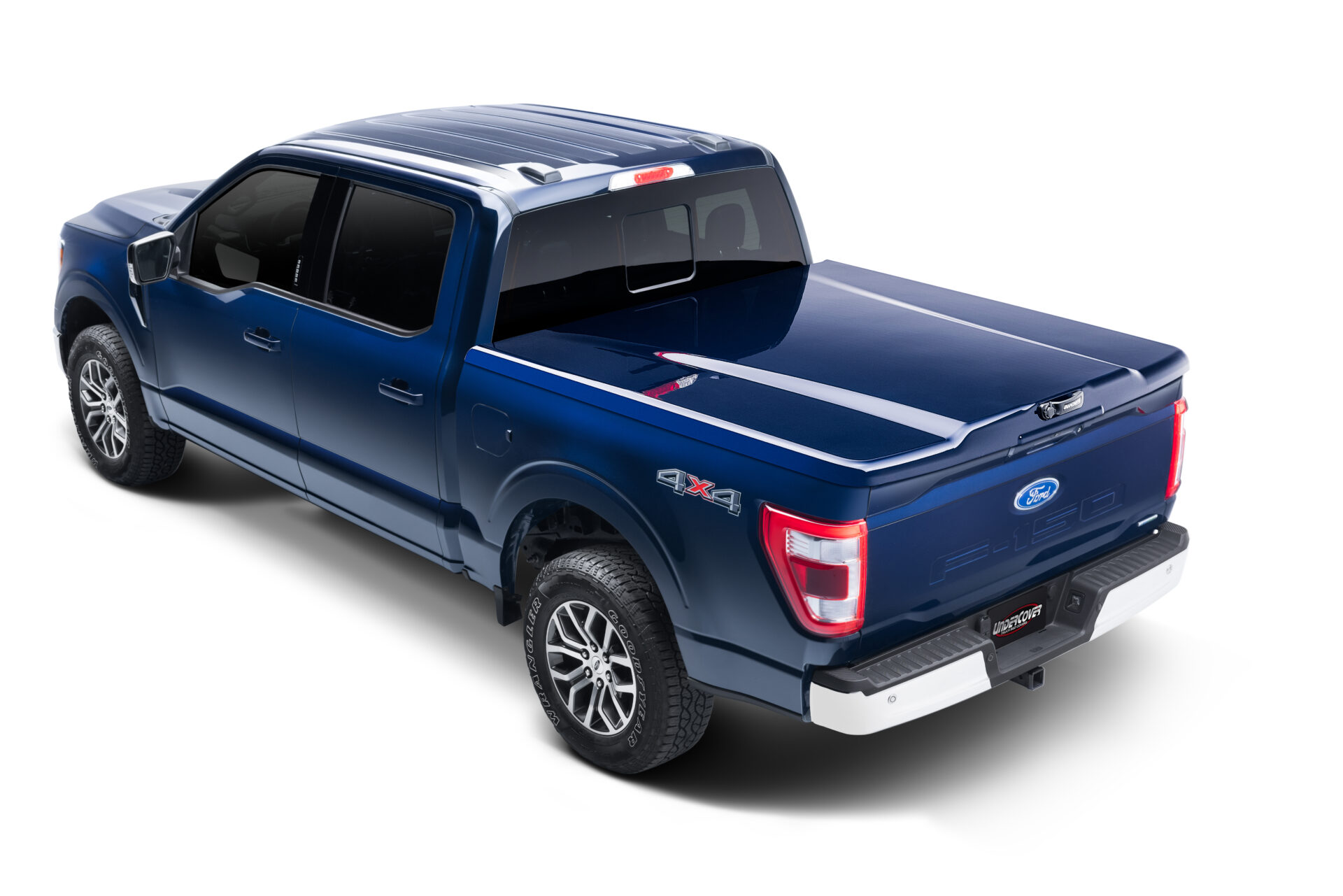 FOLDING BED COVERS
Folding and tri-fold tonneau covers fold up into multiple sections, allowing you to easily switch between keeping your truck bed covered, open, or partially covered. They're available in both hard and soft styles. Soft folding tonneau covers most often use vinyl covering over an aluminum frame, while hard folding truck tonneau covers are available in ABS, aluminum, or fiberglass.
Folding Truck Covers are lockable but easy to open, generally in seconds.
Hard folding truck bed covers will be more durable than soft tonneau covers, but both will have more stability than a roll-up cover due to the additional framing that's built into the bed cover.  Tri-fold tonneau covers can also generally accommodate extra weight and cargo.
Folding truck covers are available in various price points but will generally be more expensive than a roll-up tonneau cover.  Availability may be limited for older model pickup trucks.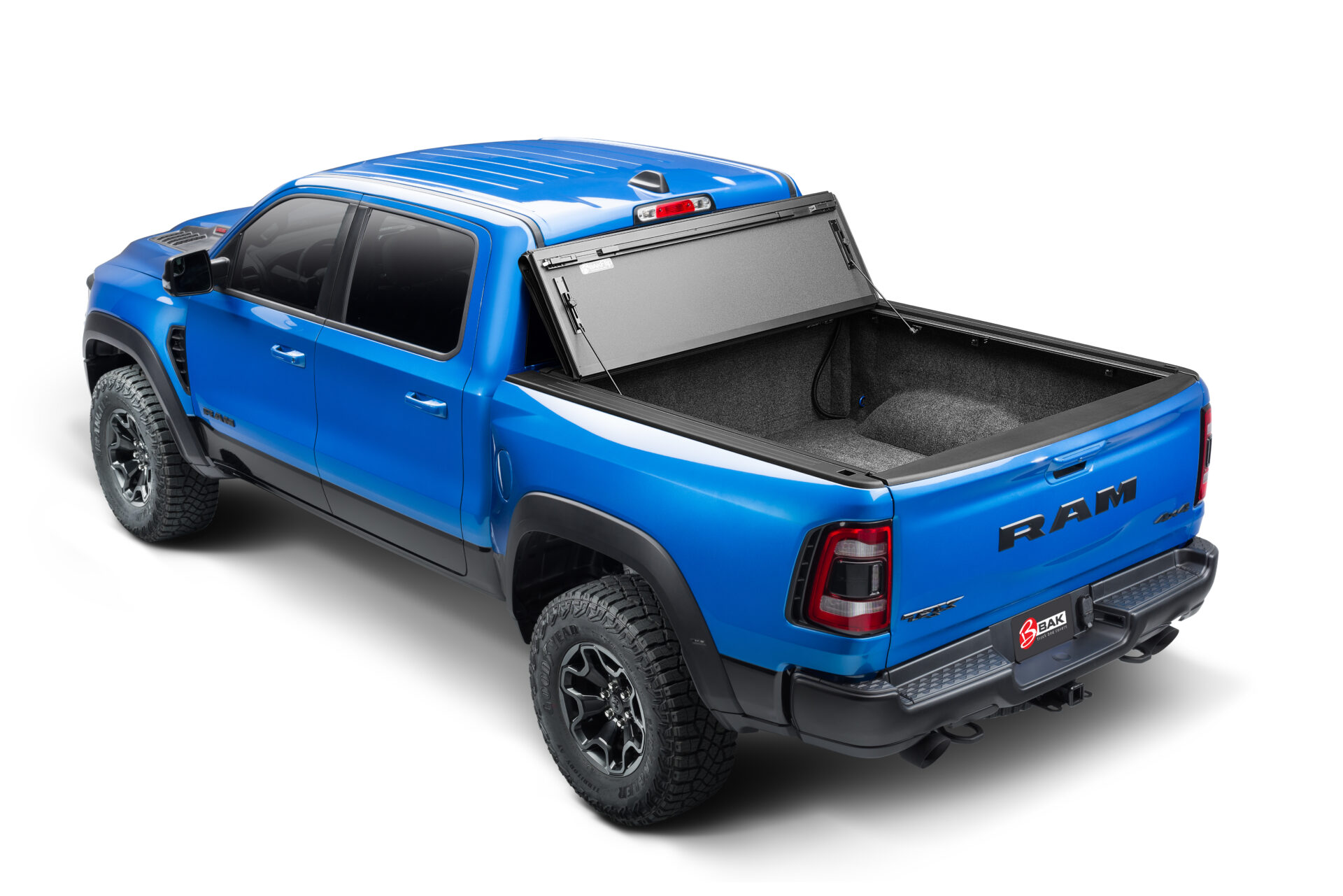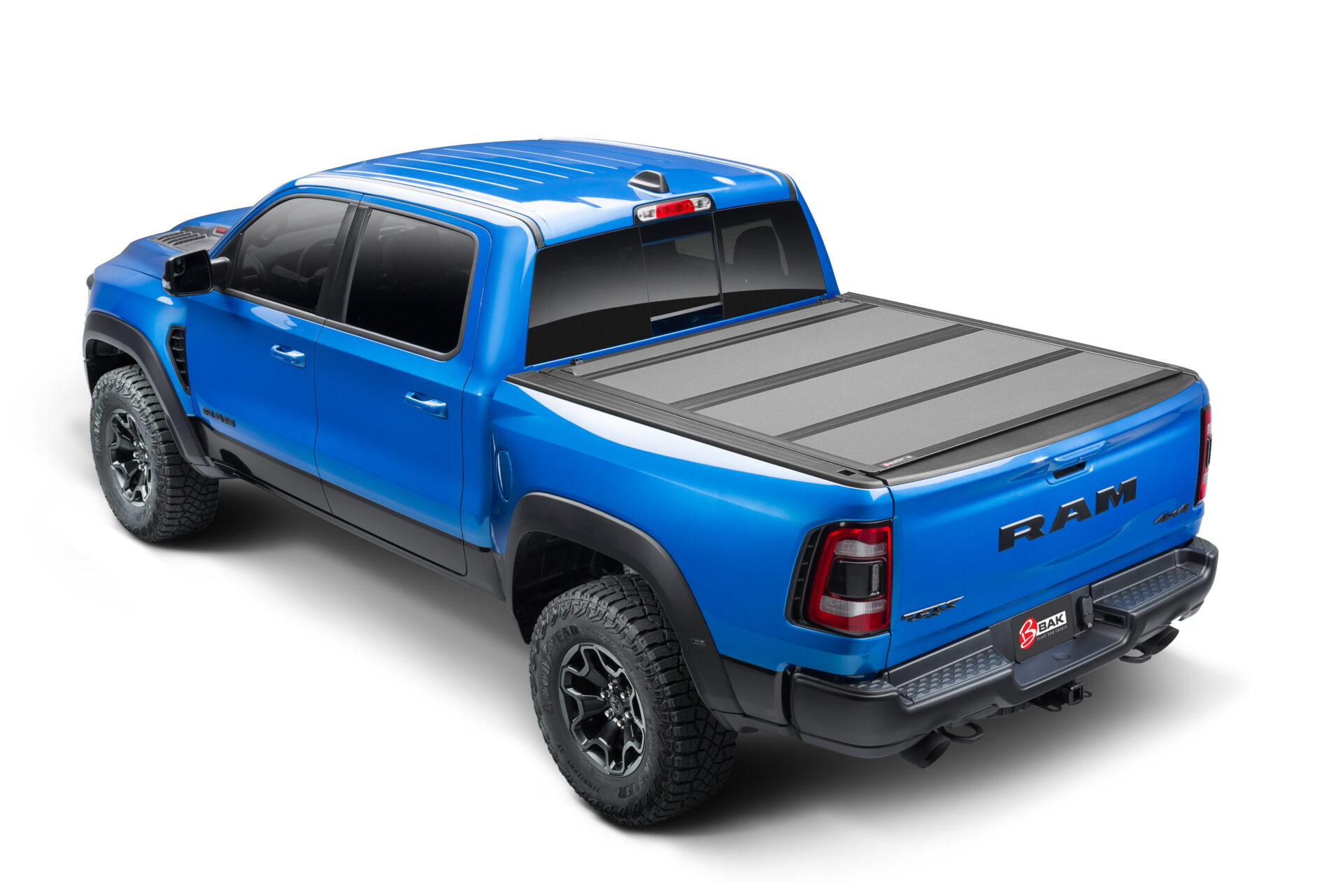 RETRACTABLE TONNEAU COVERS
Retractable truck bed covers are easy for anyone to operate, and most can be locked into several open positions, allowing you to keep your bed partially open if necessary. With their durable aluminum or polymer construction, retractable covers conveniently slide open and closed, allowing easy access to your truck's bed while providing top-notch protection for your cargo.
Hard retractable tonneau covers roll down into a canister at the bulkhead area, hiding in the truck's bed allowing for full visibility from the truck's rear cab window.
Electric retractable bed covers are available for those looking for the ultimate in convenience! For hands-free access to your gear, key fob remotes allow automatic unlocking, stopping, and opening or closing with the click of a button.
Retractable covers generally come with a higher price tag, but they also bring more strength, utility, and less maintenance. If you're looking for exceptional convenience, durability and security, a retractable bed cover is a fantastic option.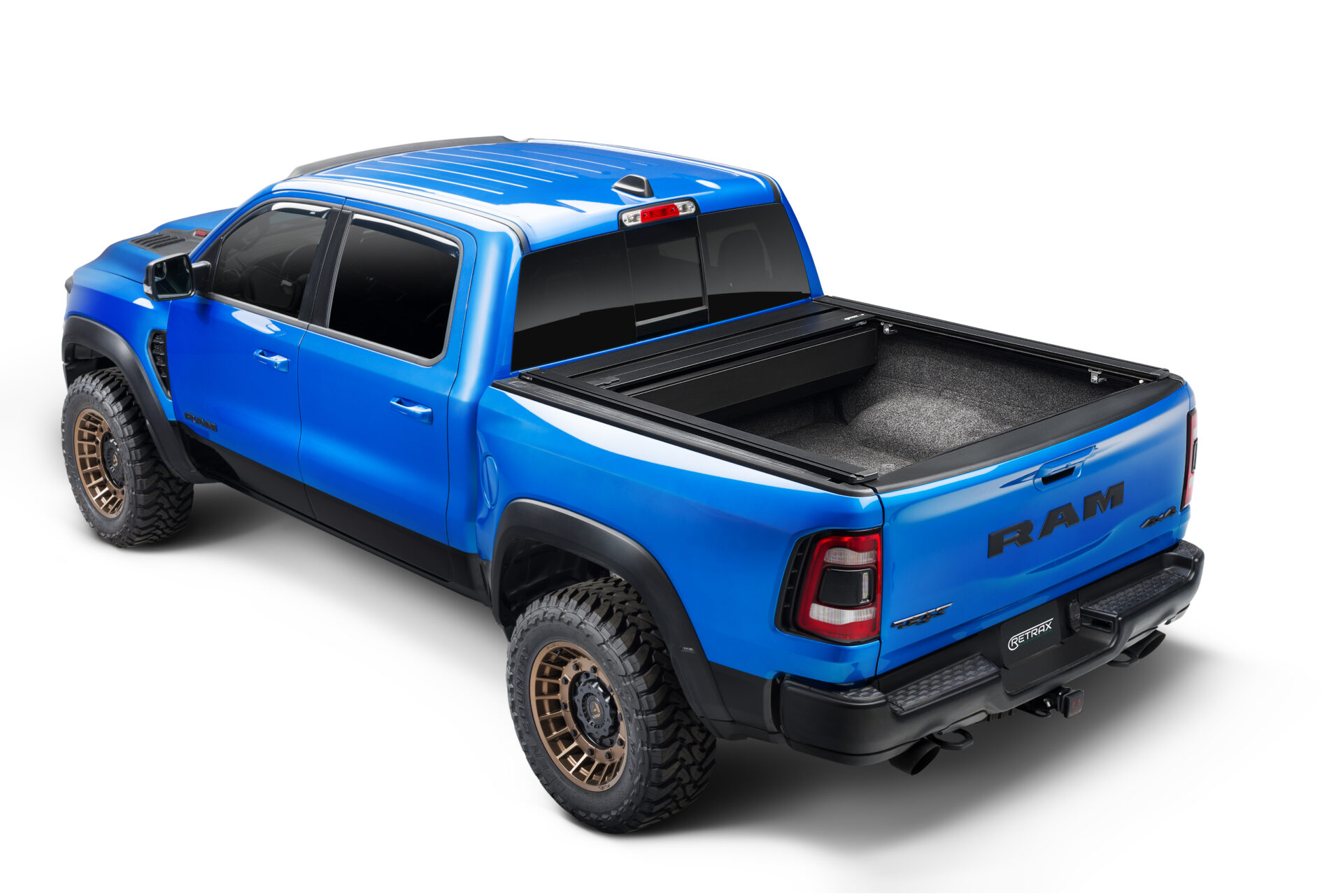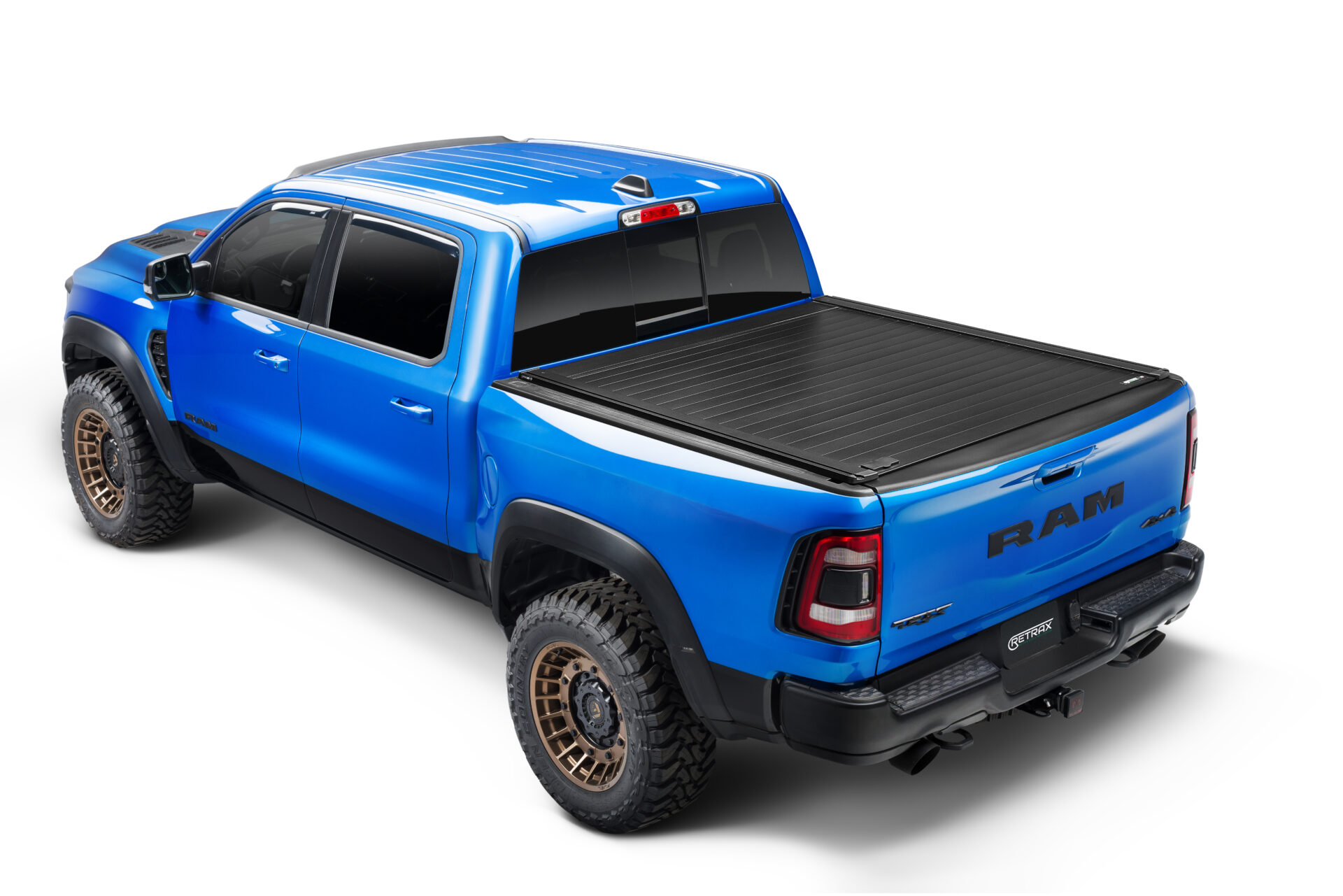 TRUCK RACK SYSTEMS
Improve cargo capacity with a Truck Bed Rack! This practical piece of equipment can be fit for pickup trucks of any make and is designed to carry items that might be awkward or dangerous to carry without the security of the rack system. Many are constructed so that longer loads, like ladders or canoes can extend over the cab of the truck, while others are perfect for stabilizing cargo, like bikes or coolers.
We carry and install top-notch truck racks that are sturdy, dependable, and can accommodate the load you need to carry.  Whether you need a ladder rack, bike rack or a general utility rack, we can help.
Options are also available for racks that sit above your retractable tonneau cover, with accommodation to carry bikes, coolers, tents, or kayaks while keeping other cargo safe, dry, and out of sight.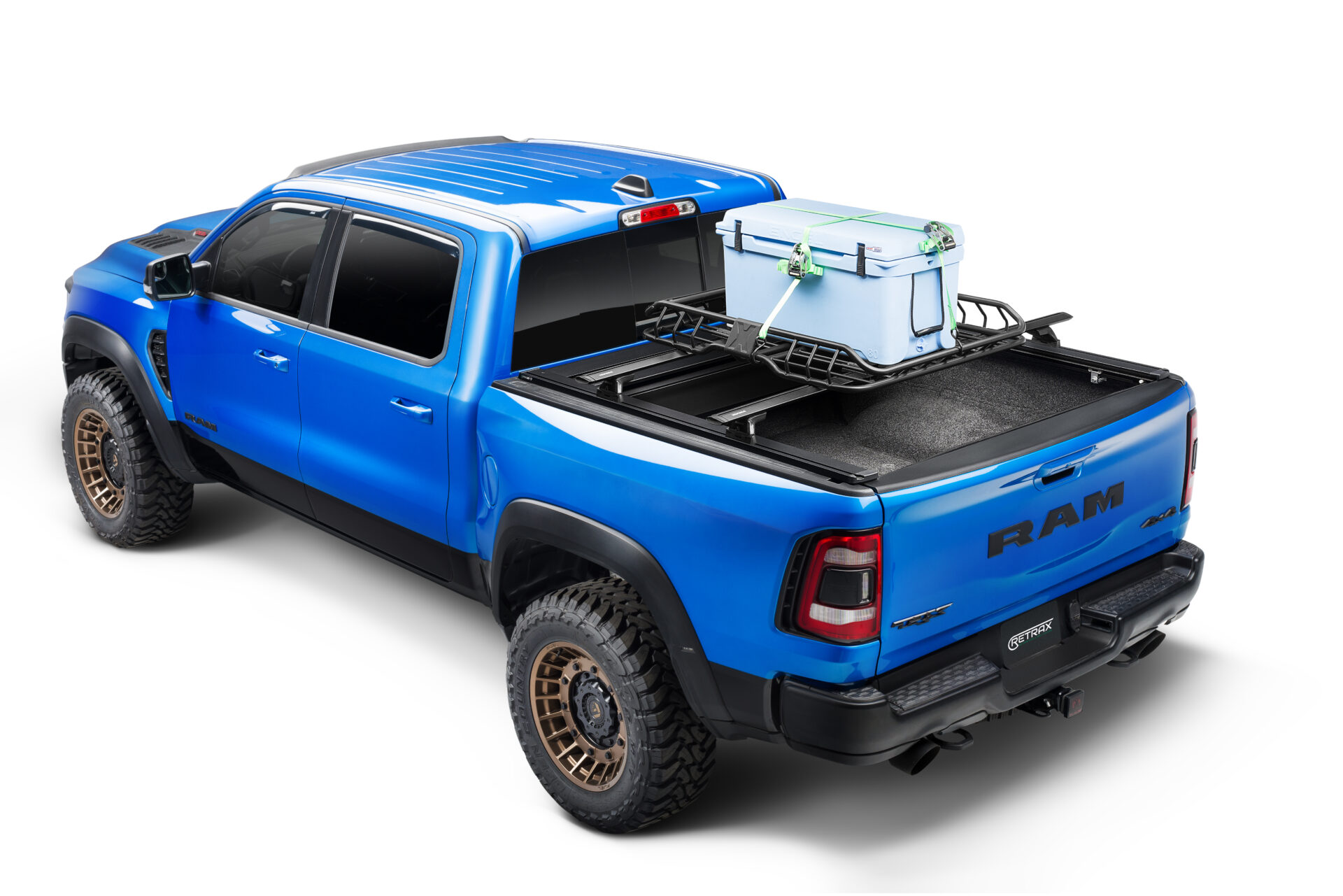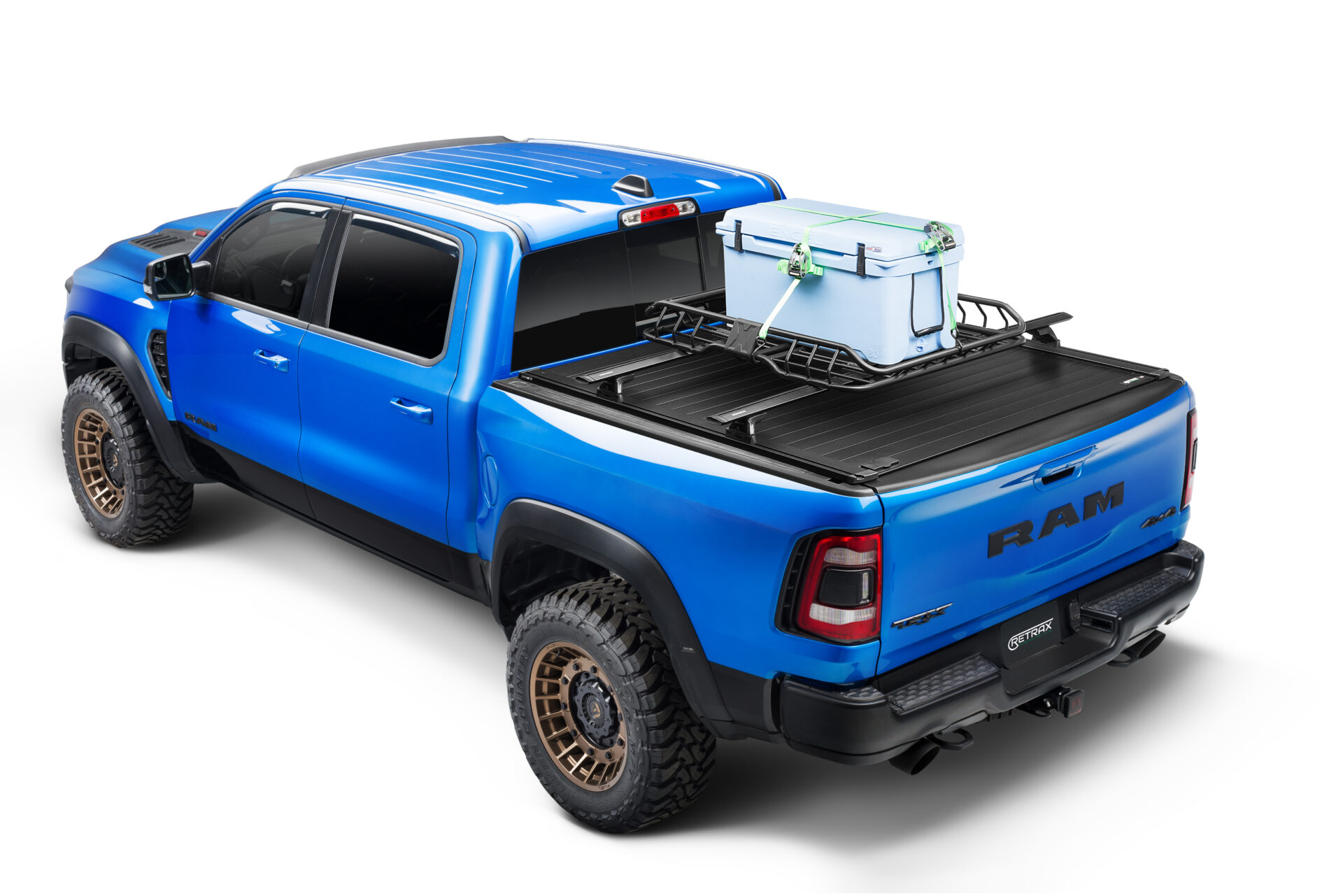 Several of the brands we carry include:
TRUCK BED COVERS FREQUENTLY ASKED QUESTIONS