Whether you want to add that set of monster tires or just raise the body of your truck or Jeep a little higher; a lift kit is the solution. Lift kits are available in two types: a body lift kit and a suspension lift kit; and each type is tailored to the unique make, model and year of your vehicle.
Let's face it...lifted rigs are all the rage! In adding both style and performance to your truck or Jeep, a lift kit can take you to new heights! Whether your vehicle will be used as a daily driver or an off-road adventurer, we've got the team that can turn your suspension dreams into reality! We can provide and install kits that match your on-road and off-road driving habits to get you the best options for your specific needs. 
And if a lift kit isn't your style, we also offer lowering and leveling kits.
Pair your suspension system with new tires and wheels!
Scroll down to check out our FREQUENTLY ASKED QUESTIONS and get more information about suspension kits.
Renegade Customs has a team of experienced, professional installers and we stand ready to give your ride the lift, level or lowering kit it needs. We can even help diagnose and repair problems with your current suspension and make recommendations to ensure that your system is safe and functioning properly. 
FINANCING AVAILABLE THROUGH ACIMA
No Credit Needed. Low Initial Payment. Flexible Finance Options. Some Restrictions Apply.
Ask About our
Lift, Tire and Wheel Packages!
Ready to find out more?
Give us a call, send us a note, stop by the shop or scroll down to check out our FAQ's and some of the brands we carry!
Top-Notch Suspension Brands and Service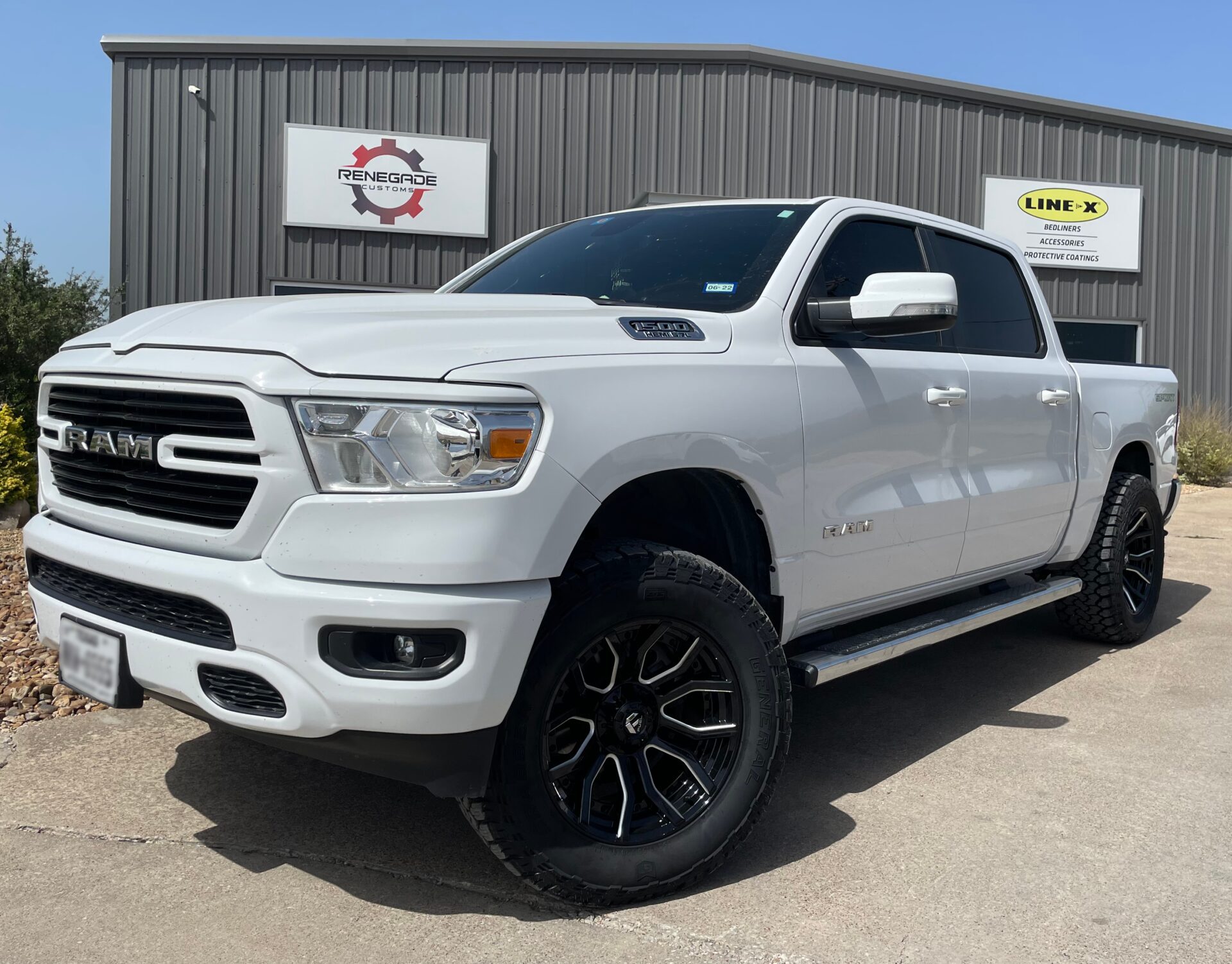 Add a Lift Kit, Leveling Kit or Drop Kit to your Dodge/Ram, Ford, Chevy, Toyota, Nissan Truck or Jeep! We can accommodate suspension services for a wide range of pickup trucks and SUVs.
We partner with and carry a variety of reliable and reputable brands including BDS Suspension, Rough Country, ReadyLift, Fabtech and more! Offering Air Spring Kits, Air Suspension Systems, Coil Springs, Coilover Shocks & Struts, Control Arms, Air Bag or Air Spring Suspension, Helper Bags and Springs, Lift Kits, Lowering Kits, Leveling Kits, Steering Stabilizers, Shocks and Struts.
Plenty of suspension options to choose from ... for nearly every budget and desire.
Several of the brands we carry include:
SUSPENSION FREQUENTLY ASKED QUESTIONS