Our vehicle window tints provide top-level performance and a sleek, custom look for your ride! Aftermarket tint is one of the best and easiest ways to upgrade your vehicle. We offer a variety of tint shades, ranging from 5% to 80% (in reference to the amount of visible light transmission through tinted windows). Our window tint options range from standard to ceramic infrared heat-rejecting films. We can help guide you to the product that fits your demands for performance, style and budget.
Tinted glass looks great, but aside from the aesthetics, there are many other benefits, too!
UV PROTECTION

- Factory glass generally fails to block the sun's UV rays, which can contribute to the fading of upholstery and warping or cracking of interior finishes. Prolonged exposure is also damaging to the skin. Our tints block up to 99% of harmful UV rays, helping to keep you, your passengers, and that beautiful interior of yours protected from the sun's damage.

COOLING POWER

– Vehicle window tints offer various levels of relief from the Texas summer sun. A ceramic tint will help keep you and your vehicle's surfaces the coolest.

LESS GLARE

– The sun's glare can be both annoying and dangerous. Like a nice set of sunglasses, tint helps protect your eyes from glare.

ADDED PRIVACY

– Automotive window tint makes it more difficult to see inside your vehicle. Your equipment and valuables are harder for prying eyes to spot with tint. We offer plenty of shades of charcoal tint for you to choose from and will tint to the highest level of darkness that the state of Texas will allow.

SAFETY

- Vehicle window tint adds another layer of protection to the glass and reduces the risk of it shattering if you're involved in a collision or if something hits it. While the glass may splinter, the film from the window tint will, in most cases, keep it together and prevent it from cutting you and your passengers. 
View our detailing site: Renegade Auto Spa
Renegade Customs is also proud to offer Paint Protection Film and Ceramic Coating Services! 
Scroll down to check out our FREQUENTLY ASKED QUESTIONS and get more information about our tinting services. 
Free Estimates!
Ready to find out more?
Give us a call, send us a note, stop by the shop or scroll down to check out our FAQ's!
WE ARE A PROUD INSTALLER OF LLUMAR AUTOMOTIVE TINT PRODUCTS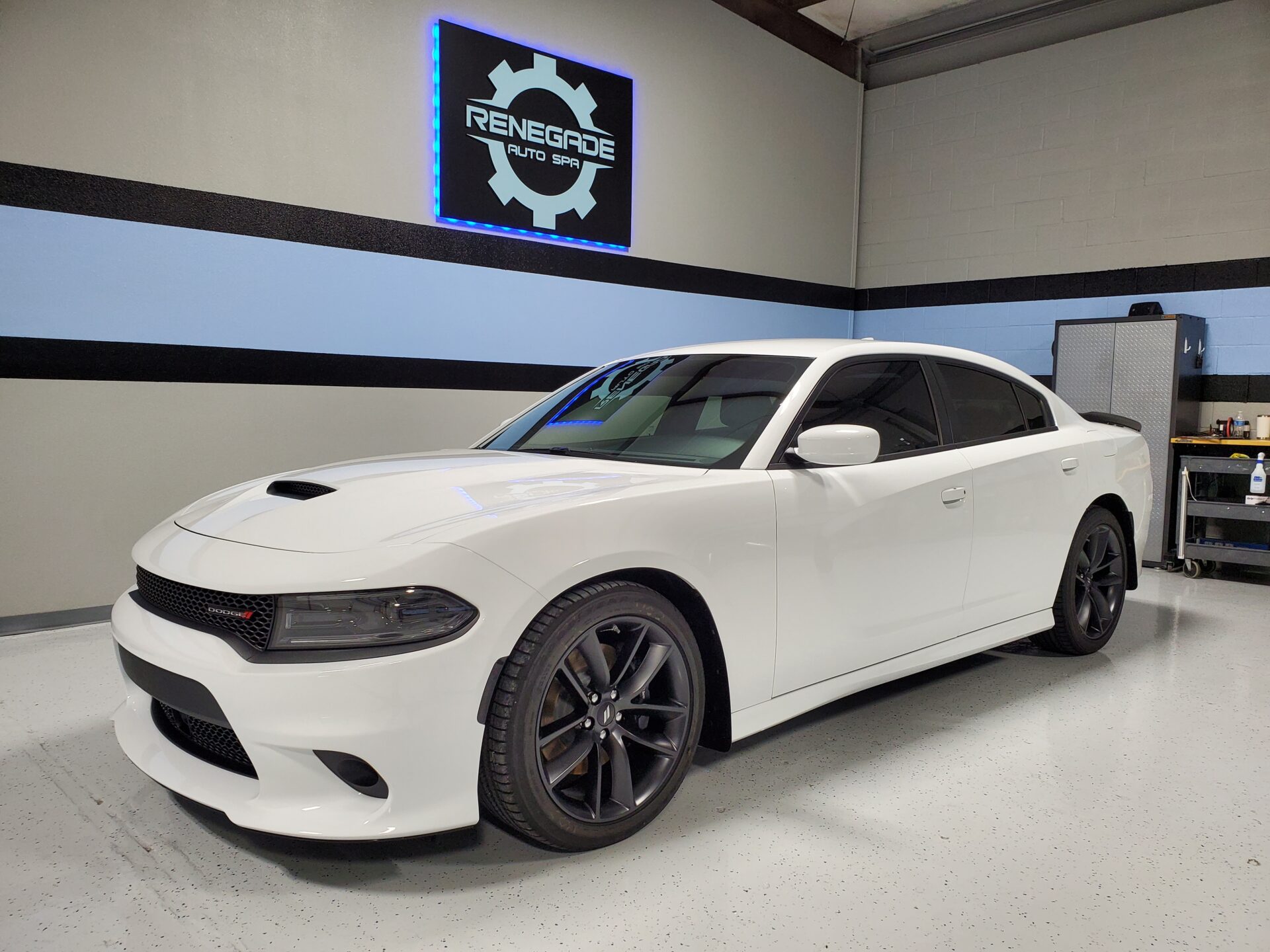 LLumar Window Films have a reputation for being among the most trusted products on the market. Their Ceramic Tints outperform other tints in that they do not fade or lose effectiveness over time, can block more than 99% of harmful UV rays and reflect light exceptionally well. LLumar Auto Window Tinting products are held to strict standards and are rigorously tested to ensure they last. These Window Films offer a scratch-resistant coating to protect them from damage during installation and beyond. All Tints come with a Manufacturer's Lifetime Warranty.
Looking for the best tint for your car or truck? Certified by LLumar, our team can professionally install your Ceramic Tint to exceed your expectations! Contact us about any of our Car Window Tinting services!
CTX CERAMIC TINT
This is a durable ceramic window tint that we offer in three (3) shades, ranging from limo-dark to moderate gray. It is metal-free, so there is no mirror-like, reflective look. It provides excellent heat-rejection, shields 99% of those nasty UV rays, reduces glare and keeps you and your interior cool in the process. Made with powerful, road-tested nano-ceramic technology that blocks heat, even in the lighter shades. This is a smart choice for high-quality car tint without the over-the-top price. Shade options 5, 15 and 30.
IRX HEAT-REJECTING CERAMIC TINT
This window tint transforms your vehicle inside and out with concentrated infrared heat-blocking power. It features advanced nano-ceramic technology that protects against more than 99% of UV rays.  IRX also provides discreet privacy, glare reduction and comes in shades that can dramatically change the look of your ride or blend seamlessly with your factory tinted windows. Advanced infrared heat-rejecting ceramic tint will stand up to the heat far better than standard tints. We offer IRX Heat-Rejecting Tints in three (3) shades: 5, 15 and 30.
AIR CLEAR WINDOW FILM
Upgrade the performance of your factory auto glass! This clear film has the same, proven nano-ceramic construction used in premium auto window tint, but without the darkening feature. AIR Clear Window Film is nearly impossible to see, but you'll still get impressive heat-rejecting power and true optical clarity. It's a perfect film to coordinate with your factory-installed privacy glass, but with the benefit of heat-taming features to boost its performance. Enjoy AIR Clear Window Film on your windshield and beat the Texas Heat!
WE'VE GOT THE TINT COVERAGE YOU NEED!
Contact Us For A Quote!
AUTOMOTIVE WINDOW TINT FREQUENTLY ASKED QUESTIONS